Posted by Adam Jacobi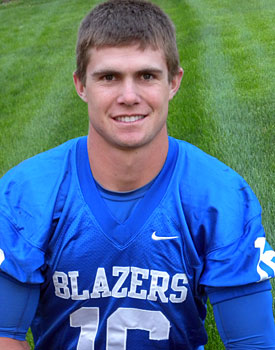 On paper, one of the crown jewels of Nebraska's recruiting class is Bubba Starling, a highly-touted quarterback prospect from Gardner, KS (an exurb of Kansas City). Starling is one of the top high school quarterbacks in the country, and he could probably challenge reigning Big XII Freshman of the Year Taylor Martinez for a starting role on Day 1.
In fact, Starling is such a good athlete that he's also one of the best baseball prospects in the nation, and although Nebraska has offered him a spot on both its football and baseball teams, that might not be enough for the young man Baseball America anointed as its No. 1 high school prospect. And since Scott Boras is advising the young man, well, it seems as if his story's already written.
Still, the draft hasn't happened yet, and Boras has a funny way of making demands so steep that his draftee just plain doesn't get signed. And lest we think that (pardon the pun) hardballing won't happen in this instance, here's Starling himself starting negotiations at "a lot of money" (via the Kansas City Star):
Several online mock drafts have Starling going No. 11 overall to the Houston Astros, which is where the complications arise.

Last season's 11th pick, Deck McGuire, picked up a $2 million signing bonus from the Toronto Blue Jays. Tyler Matzek got $3.9 million from the Colorado Rockies in 2009 as the No. 11 draft pick, and Justin Smoak netted $3.5 million in the same slot in 2008 from the Texas Rangers.

That kind of money would be hard to turn down. Starling is weary of the incessant speculation about his future, but he admits that becoming a multi-millionaire overnight might convince him to forego his commitment to the Huskers.

"Obviously, it's something I would have to consider, but it's going to take a lot of money for me not to go to Nebraska," Starling said.
Now, if the top high school prospect gets any money from the draft, it's going to be a lot of money, so Nebraska fans should be rooting for a small-market team without a prayer of paying a big-time signing bonus to draft Starling. Generally, though, those small-market teams know better than to tangle with Scott Boras clients when it comes to draft day, which is why those mock drafts are putting Starling with the Astros down at the 11th spot.
If that is indeed Starling's fate, Husker fans shouldn't panic; Taylor Martinez is back under center, after all, and as long as Bo Pelini can keep from running T-Magic off with another ill-timed scream session, Nebraska should be set at quarterback for a while. Moreover, if Starling's baseball career somehow doesn't pan out, he'd hardly be the first guy to come back to college football and be successful (Brandon Weeden, Chris Weinke, others). Something for Husker fans to keep in mind when they decide between "traitor" or "best wishes" to direct at Starling if/when he makes the jump to pro baseball.