Posted by Chip Patterson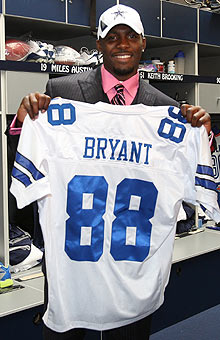 Former
Oklahoma State
wide receiver
Dez Bryant
may have done more harm than good during his last year in Stillwater, being ruled permanently ineligible in October 2009 for lying to the NCAA about his relationship with
Deion Sanders
. While Bryant sat on the sidelines, the Cowboys dropped three of their last six games and finished second in the Big 12 South in a down year for rival
Oklahoma
.
Now a recent lawsuit brought against Bryant may have more negative implications on the Oklahoma State football program, and these could be much more serious. The lawsuit claims that the star wideout began receiving jewelry, tickets, and loans totaling more than $600,000 beginning in June 2009. The Associated Press is reporting that Bryant was expected to pay back receipts by July 30, 2010 or "
when he signs his first Marketing or Sports Contract.
"
"That's new information to us,"
said associate atheltic director Kevin Fite addressing the claims
. "It's somethign we are certaintly going to look at."
If Bryant did receive goods or loans while still eligible with intentions of paying them back when he turned professional, it is a pretty blantant violation of the NCAA amateur rules. If it can be proven that Oklahoma State knew about the arrangements, they could face further prosecution from the NCAA. Which is why there is no surprise they are acting so quickly to look into these claims.
Keep it here with CBSSports.com and the Eye On College Football for more as this develops