Posted by Tom Fornelli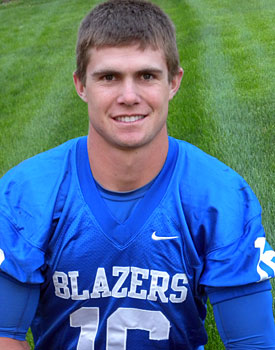 Quarterback Bubba Starling was one of the bigger signings in Nebraska's 2011 recruiting class, and the 6'5 two-sport star out of Gardner, Kansas told the Lincoln Journal Star on Wednesday that he'd be on campus to begin taking classes on July 10th. Of course, the real question with Starling is whether he'll still be in Lincoln after August 15th.

As I said, Starling is a two-sport star, and while he may have been a high-profile signing for Nebraska as a quarterback, his star shines a bit brighter in the other sport he plays - baseball. Starling is widely considered to be the best high school baseball player in the country, and I've seen him compared to the Texas Rangers' Josh Hamilton in overall terms of his ability. Which is why just about every MLB draft expert has Starling going in the top ten of the MLB amatuer draft on June 6th.

Starling has said in the past that it will take a lot to get him to leave Nebraska, and a lot is what he's likely going to get from whichever MLB team drafts him. It's possible that Starling could be offered a signing bonus of $5 million, a possibility that is a lot more likely when you realize his agent is Scott Boras. I don't care how much you like a school, or enjoy playing football, when you're fresh out of high school and somebody offers you $5 million to do something you love like playing baseball, it's not easy to turn that down. Especially when you consider that Nebraska baseball coach Mike Anderson, whom Starling had a good relationship with and was a big reason he chose the school, was fired on Sunday.

Starling told the Lincoln Journal Star that Anderson's firing won't have any influence in his decision, but it's a lot easier to say that than it is to mean it. I can't put myself in Starling's head, but I know that if I were in his shoes and I was offered $5 million to play baseball, I'd take the money and give it my best shot.

After all, if baseball didn't work out for him, Starling wouldn't be the first player in history to give up on it and come back to play college football. You don't have to look any further than current Oklahoma State quarterback Brandon Weeden to find such an example.