Posted by Tom Fornelli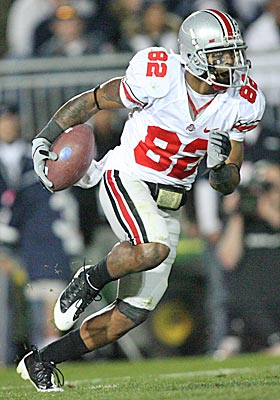 On Thursday former Ohio State wide receiver Ray Small caused quite a stir in the college football world when he told Ohio State's student newspaper The Lantern that "everybody" was selling memorabilia and getting deals on cars while at Ohio State. As you'd expect, this brought a lot of blowback for Small from both current and former Buckeyes along with Ohio State fans.

Well, surprise, surprise, Small is suddenly changing his tune. In an interview with WBNS-10TV in Columbus, Small says that The Lantern "flipped" his words.
"It's hard being an athlete," Small said. "That was basically what I was saying. (The Lantern author) just flipped my words around and make the whole Buckeye Nation hate me."

Small went on to say that The Lantern got the majority of the story wrong.

The Lantern denied Small's allegation, Aker reported.

"We, 100 percent, stand by our story," said Lantern Editor Zach Meisel. "Everything (Small) said was recorded."

Small was quoted in The Lantern article and said that some players "don't even think about NCAA rules."
How convenient for Small. It's somewhat hard to believe that the original story could "flip" the words that Small said. I mean, if all he was trying to say was that it is hard being an athlete then all Small had to say was "it's hard being an athlete." He didn't have to talk about how easy it was to sell memorabilia for some extra cash, or about how getting deals on cars isn't that big of a deal. He also didn't need to say that there was "a lot [of dirt] on everybody." I mean, these are incredibly abstract ways to say "being an athlete is hard" aren't they?

I don't think anybody flipped Small's words at all. I just think that Small didn't think about the type of reaction his words would receive and he now regrets saying anything and is just trying to dig himself out of a hole.

UPDATE: Did The Lantern really "flip" Small's words around? Well, the paper released audio of the interview. You decide.