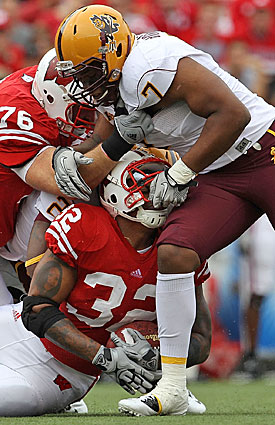 Posted by Jerry Hinnen
When a news story proclaimed
Arizona State
linebacker
Vontaze Burfict
the team's new defensive leader over the summer,
we couldn't help but have a little fun with it,
since "natural leadership qualities" haven't exactly been the most noticeable of the hotheaded All-American's abundant gifts.
But of course, there was always the hope -- there has always
been
the hope in Tempe -- that Burfict was on the verge of turning over a new self-controlled leaf and becoming
the potential national Defensive Player of the Year
his talent suggests he can be. Unfortunately, it appears
Dennis Erickson
is going to have to wait for that leaf to turn a little longer; the
Arizona Republic
has confirmed
that Burfict threw a punch at teammate
Kevin Ozier
in a post-practice altercation last week.
According to the
Republic,
Burfict waited for Ozier in the Sun Devil locker room following an argument during practice, and each player exchanged punches (Burfict's coming first) before the fight was broken up.
Though
the website Sports by Brooks implied
Burfict could have been withheld from the program's recent media day and had seen a magazine photo shoot canceled because of the incident, ASU spokesman
Mark Brand
called many of the site's reports "completely false." Burfict has not missed any practice time and what punishment he's received, if any, is being handled in-house.
In fact, if this wasn't Burfict, this would likely be just another "boys will be boys" story that appeared in a local beat writer's notebook and was ignored everywhere outside of Tempe. But because the player in question
is
Burfict, with his towering talent and temperamental history, it's much more than that. It's common knowledge that if Burfict can just get his emotions under control on the field this fall, the Sun Devils stand an excellent chance of winning the inaugural
Pac-12
South title and of turning around Erickson's stagnating program. So it's not surprising that every move Burfict makes in camp is going to be watched.
And unfortunately for the Sun Devils, this latest move does make it seem much less likely that Burfict will, in fact, keep his emotions in check. The question has to be asked: if he can't keep his temper when dealing with his own teammate, how is he supposed to do it with his opponents?