Posted by Chip Patterson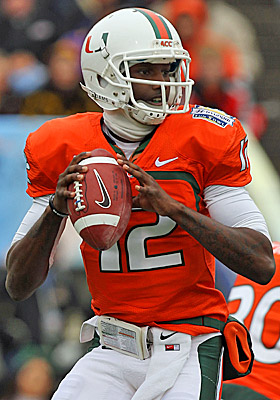 Miami
head coach
Al Golden
has delayed the release of the Hurricanes' week one depth chart due to the eligibility questions surrounding eight current players and potential violations committed with former booster
Nevin Shapiro
. The school
filed the official paperwork to declare the players ineligible late last week
, with hopes the NCAA will make a ruling on their eligibility before the Hurricanes' open the season on Labor Day against
Maryland
.
According to CBSSports.com's Brian London
, Golden was on local radio Monday morning and expects to get a ruling by the NCAA "
within 48 hours
." The new Hurricanes coach did say that he would coordinate with Maryland's
Randy Edsall
on the official release of the depth chart, but was hoping to learn the fate of the reported eight ineligible players.
Among those eight players
reportedly includes senior quarterback Jacory Harris
, who has engaged in a fierce position battle with sophomore
Stephen Morris
. Both players have received praise from coaches and teammates alike for their performances in fall camp, and Golden even described the race as a "dead heat." Harris confidently told reporters at the team's media day on Saturday
, but did not elaborate further on the status of the NCAA investigation.