Posted by Chip Patterson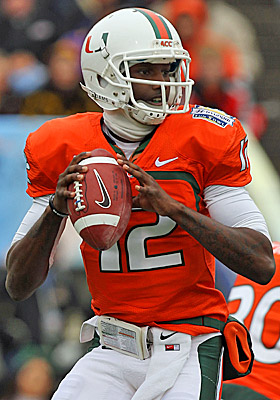 Miami
head coach
Al Golden
hoped that he would hear from the NCAA "within 48 hours," and he did.
On Tuesday the NCAA ruled that eight members of the current Hurricanes football team must serve suspensions and repay benefits in order to become eligible again after receiving benefits from former booster Nevin Shapiro.
Senior quarterback
Jacory Harris
, wide receiver
Travis Benjamin
, defensive tackle
Marcus Forston
, defensive end
Adewale Ojomo
, and linebacker
Sean Spence
must all serve a one game suspension and repay their benefits. Converted tight end
Dyron Dye
and safety
Ray-Ray Armstrong
must serve a four game suspension while defensive end
Olivier Vernon
must miss six games of competition.
The school confirmed that all of the players with one game suspensions will serve them on Sept. 5 when the team opens the 2011 season against
Maryland
.
The NCAA deemed that three players (Dye, Armstrong, and Vernon) received "
substantial benefits
" as prospective student athletes from Shapiro and school employees. These benefits have been deemed by the NCAA as "
serious recruiting violations
." According to the official release the NCAA is categorizing these players differently from the other five, who received impermissible benefits while already enrolled at Miami.
"The NCAA has informed the University of Miami of their decisions regarding the reinstatement of eight student-athletes who were declared ineligible by the University last week,"
Miami athletics director Shawn Eichorst said in the official release
. "The student-athletes involved have acknowledged receiving improper benefits and will now be responsible for restitution and, in some cases, the student-athletes will also serve game suspensions. They understand that their actions demand consequences."
"We appreciate the diligence and understanding of the NCAA staff and its handling of the student-athlete eligibility issues in an expeditious manner. I would also like to thank Coach [Al] Golden and his staff for their professionalism and leadership over the past few weeks."
Miami also announced that four members of the football team have been cleared by the NCAA to play, but must repay amounts of less than $100 in impermissible benefits.
Brandon McGee
,
JoJo Nicholas
,
Micanor Regis
, and
Vaughn Telemaque
will all be eligible for Monday's opener against Maryland. Senior defensive end
Marcus Robinson
has been cleared by the NCAA but will not face any penalties or have to repay any benefits.
One interesting development from the school was the indefinite suspension of senior wide receiver
Aldarius Johnson
. Johnson had slowly fell behind other wide receivers on the depth chart after suffering an injury in spring practice. He was singled out by Shapiro in the Yahoo! report as someone who received money "
at least 10 times
" but his suspension is officially for "violation of team rules."
The NCAA found that Oliver Vernon received more than $1,200 in benefits primarily from Shapiro during recruitment. This includes meals, transportation, and "entertainment" at nightclubs, among other allegations. Armstrong was found to have received approximately $788 in extra benefits from Shapiro and personnel, while Dye received approximately $738. Those were listed by the NCAA as impermissible lodging from Miami staff during unofficial visits, transportation, meals, and entertainment at a gentlemen's club.
Meals, transportation, entertainment, night club/gentlemens club cover charges appear to be the common benefits for the five players serving a one game suspension. The NCAA estimates Forston received $400 in benefits, Spence's were valued at $275, Ojomo's total was $240, with Andre Benjamin and Jacory Harris rounding out the group at $150 and $140 respectively.