Posted by Bryan Fischer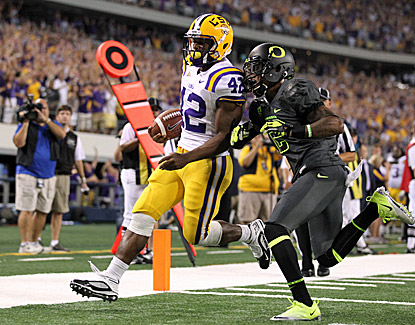 1. It was a rough week for the
Pac-12.
The non-conference slate is usually something the Pac-12 takes pride in but
Larry Scott
would certainly like to forget week one of the season on the field and concentrate on expansion off of it. Record-wise, the conference did
ok
at 8-4. Look deeper however, and you'll see some serious flaws.
Washington
allowed their first ever FCS opponent to throw for 473 yards and three touchdowns on them before
Desmond Trufant
made a last minute interception.
USC
, too, held on thanks to a last minute pick and
Oregon State
lost to an average FCS team in
Sacramento State
.
Rick Neuheisel's
seat got warmer with a loss to
Houston
and, in the week's flagship game,
Oregon
got pushed around by an
LSU
team dealing multiple off the field issues. Yes other conferences struggled this weekend, and yes the Pac-12 can rebuild their reputation, but it was just not a great start to the 2011 season out West.
2.
Stanford
is the conference torch-bearer for now.
There's no question it will be extremely tough for Oregon to get back into the national title race given the back-to-back losses to
SEC
teams and the way they were manhandled in the opener. Is it impossible for them to end up in New Orleans? No, but it will be a long climb back to the top five to be in that position again. That leaves Stanford as the most likely Pac-12 representative that can make a run. They certainly have the quarterback as
Andrew Luck
spread the ball around to several new targets as the Cardinal rolled
San Jose State
57-3. Their schedule looks even easier now too as they host Oregon and wrap up with an even more suspect
Notre Dame
team. They have the best player in the country and now it's their turn to lead the charge until the Ducks roll into Palo Alto for the head-to-head showdown to take it back from them.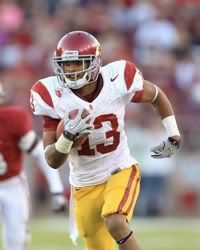 3.
Robert Woods
is a special player.
After being limited throughout parts of spring practice and fall camp, it's clear that the Freshman All-American is a key cog in the USC offense. Woods caught a school-record 17 passes for 177 yards and three touchdowns and simply
was
the Trojans' offense against
Minnesota
. His quarterback was pretty sharp too, as
Matt Barkley
completed a school-record 34 passes despite an average-at-best offensive line in front of him. There were plenty of quick passes to Woods Saturday afternoon, but his burst and ability to break tackles are a good reason why he's wearing former great
Steve Smith's
number. The offense trailed off in the second half but if there's one bright spot for
Lane Kiffin
watching the film, it's that Woods is a star.
4. Where does Oregon State go from here?
Mike Riley
didn't really know what kind of team he had this year and after week one, he really might not know. The Beavers played more freshmen in a game than they have in the last 16 years and even then, it's hard to figure out how they dropped their home opener to an FCS school that was 6-5 last season. It does appear that the team has found a replacement for
Jacquizz Rodgers
after true freshman
Malcolm Agnew
rushed for 223 yards and three touchdowns. Quarterback
Ryan Katz
was not sharp at all, completing 50 percent of his passes with an interception before being replaced at halftime. With so many question marks, Riley and company better figure some things out quickly as they'll travel to a very impressive
Wisconsin
team next week.
5. Why is Oregon throwing the ball so much?
Yes LSU's defense was good and yes, it was certainly swarming anytime an Oregon player touched the ball. That still doesn't explain why the Ducks couldn't run the ball Saturday night and
Chip Kelly
had
Darron Thomas
throw it an eye-popping 54 times. That was the most attempts by a quarterback on the team in over seven years.
Seven
. It's just not like Kelly's team to purposefully try to establish the run early and often either. Once they got behind you can understand them going to the air but rarely has the run-pass split been like it has been against LSU (and feel free to go back to last year against Auburn too).
LaMichael James
was held under 60 yards on the ground for his second straight game and it appeared he never could find daylight. Whether that's because he's a half-step slower or because the rebuilt offensive line couldn't create a hole is something the coaching staff will have to figure out. Bottom line, it has to be concerning to see Thomas drop back to throw as much as he did.