Posted by Chip Patterson
This week's polls
have been released
. Here's how the
Big East
fared, from the top of the polls to the bottom, and what it means.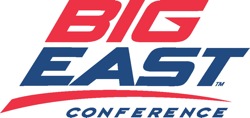 (AP/Coaches)
ORV/23.
West Virginia

West Virginia had Week 12 off, but things still went the Mountaineers' way over the weekend. With
Cincinnati's
loss to
Rutgers
, it ensures the opportunity for a 2-loss Big East team to earn a share of the title. The next challenge for West Virginia will be winning out and getting one
Louisville
loss to avoid missing a BCS bowl game based on a tiebreaker. Unfortunately none of the Big East tiebreakers involve rankings, much less in the Coaches' Poll, so this love from the voters does little for their big picture goals.
Others receiving votes:
Rutgers
finds themselves right on the edge of the rankings once again after knocking Cincinnati from the top spot in the conference standings. Seems as though the national voters are not as thrilled with the excitement down the stretch in the Big East.
Do you like us? We like you. Make it mutual and "Like" us at the official Eye On College Football Facebook page.


Keep up with the latest college football news from around the country. From the regular season all the way through the bowl games, CBSSports.com has you covered with this daily newsletter. | Preview