Posted by Tom Fornelli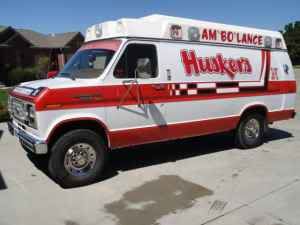 There are big changes being made at
Nebraska
right now. The school is on the verge of a new beginning. One that will see the Cornhuskers join the Big Ten in time for the 2011 season. So, if you're a Nebraska fan, it may be time for you to experience a fresh start as well. After all, there will be a lot of new opponents coming to Lincoln, faces you aren't used to seeing, and you're going to want to make an impression.
I mean, unless, you just want to be another face lost in a sea of red. You don't want that, do you? No, of course not. So what can you do to make sure that when some Iowa fan makes the trip to Lincoln, he notices you. I'll tell you what you can do,
you can buy yourself the AmbBoLance
.
You are looking one excellent investment! Fun for everyone is the Original Am'BO'Lance. As featured on some of the fan forums and TV broadcasts, the 1-Ton FORD conversion is up for sale!
Again, a 1986 with minimal wear and tear. Only 17k org miles. Great foor tailgates/hunting/fishing/camping etc.
We have owned and maintained well this vehicle foor the past TWO husker football seasons. First and foremost the all new engine work:
Carb. kit (4 bbl. holly), new plug wire set, plugs, air cleaner, brake lines, brakes, wheel cylinder, wheel seals, power steering gear, serviced transmission, transmission filter, oil filter, power steering hose, clutch, tie rods, a/c belt, alternator belt, califer sleeves, sway bar, both batteries are new, misc. gaskets, turn signal switch, all fluids. We took this down to Kansas last year and didn't want any unexpected issues...this baby runs like a top...no worries and no non-disclosed issues!
If new califer sleeves aren't enough for you, you should also know that the logos on the van are "professionally installed." The AmBoLance also has a new Sony stereo in it that the seller assures us "rocks!" So bust out those old Whitesnake cassettes and let everybody in Lincoln know who's boss.
This tailgating nirvana can all be yours for the price of $7,000. Don't think of it as dropping $7,000 on a tricked-out ambulance, think of it as making a down payment on the rest of your life.
Hat tip: EDSBS