Posted by Chip Patterson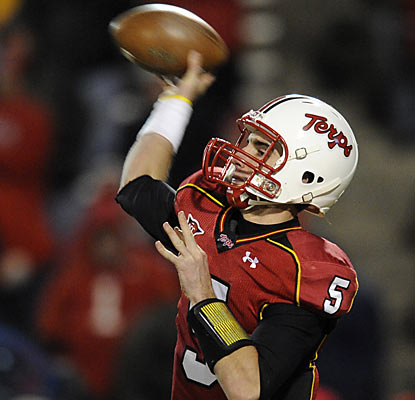 Coming into the 2010 season, the expectations were pretty low for
Maryland
football. They were fresh off a 2-10 season, and the touchdown-less second half in the 17-14 season-opener against
Navy
did not ease any concerns. But when quarterback
Jamarr Robinson
injured his arm and began missing snaps due to soreness, redshirt freshman quarterback
Danny O'Brien
took control.
O'Brien took the keys to the offense helped lead the Terps for a 6-win turnaround to 8-4, one of the best turnarounds in program history. O'Brien threw for 2,438 yards and 22 touchdowns, and was named the ACC Rookie of the Year.
But a new head coach (
Randy Edsall
) and new offensive coordintaor (
Gary Crowton
), O'Brien's hold on on the starting job might not be as tight as many expected. Edsall made a point on Monday to compliment the play of sophomore quarterback
C.J. Brown
.
"C.J. Brown is putting pressure on Danny,"
Edsall said today in a conference call with reporters
. "I like the things that he's doing. C.J. is a guy that does a good job in the huddle and can make plays."
Brown was considered one of the candidates for Robinson's starting job until his season was ended by a broken collarbone against Morgan State in the second game of the season. The dual-threat quarterback only has one passing attempt and one rushing attempt in his brief collegiate career, but he has been making a statement so far in spring practice. As far as Edsall is concerned, the compeitition will only lead to good things for Maryland.
"Everybody always needs somebody pushing them, somebody behind them,"
Edsall said
. "I think the competition is great for everybody. You can never drink the Kool-Aid. I'm not saying anyone is, but I'm saying every day you have to go out there and prove yourself and be the best you can be. That's all we want these guys to do."
RELATED
: Maryland may have their options open at the quarterback position, but they are already having to shuffle the depth chart due to injury. Edsall also told reporters that starting left tackle
Justin Gilbert
re-injured his left knee and underwent surgery on Thursday
. It is the same knee that ended Gilbert's season Sept. 18 at West Virginia a year ago. Sophomore
Max Garcia
is expected to take over the starting spot.