Posted by Chip Patterson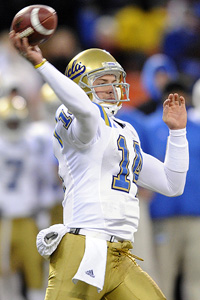 On a weekend that will include a slew of matchups between FBS and FCS teams, there are only a few non-conference games on the slate between AQ conferences. One of those will be between
UCLA
and
Kansas State
in Manhattan, and the Bruins will wait until then to name their starting quarterback.
Returning starter
Kevin Prince
has missed almost all of training camp with a strained oblique in his lower back. Sophomore
Richard Brehaut
has been taking the first-team reps in his place, and showing plenty of promise. The game is only three days away, and head coach
Rick Neuheisel
is
nowhere close to naming his starter.
"Kickoff is at 2:30 Central time, game-day decision," Neuheisel said. "I don't think there's anything (health wise) that says (Prince) can't play, it's just who gives us our best chance."
Prince admits he has been a little off on his timing since returning to full practice participation on Monday, though he believes that it won't take too long to get back on the same page with his receivers.
"You're out for three weeks and guys that have been out here have their timing down and that's something I need to catch up on," Prince said. "But I'll get it. I've done it before. I've been with these guys, a lot of these guys for three years, so we'll get back on the same page real quick."
Coach Neuheisel insists that regardless of who starts, both quarterbacks will see the field against Kansas State.